19 years in the making: Towantic power plant timeline
June 1999: Towantic Energy and its parent company, Calpine Inc., receive approval from the state to build a gas-fired electric generator in Oxford.
February 2001: Oxford residents narrowly pass a referendum approving the sale of 20 acres of town-owned land to Towantic Energy LLC of Westport. The referendum also passes a tax stabilization agreement guaranteeing the town $44.5 million in tax revenues over 22 years.
Dec, 2, 2004: Towantic Power Plant developers ask Connecticut Siting Council for 45-month extension on its approval to build the proposed power plant. According to the original certificate the plant had to have been completed by May 29, 2005.
May 2005: The Connecticut Siting Council rejects several proposals to cancel its certification of Calpine Corp.'s proposed Towantic Energy centre.
December 2005: Calpine Corp. files for Chapter 11 bankruptcy. General Electric shows interest in purchasing the project.
August 2006: GE and Towantic jointly file request with Siting Council asking to extend the construction deadline to Jan. 24, 2007. The council grants a 120-day extension.
2007: GE Energy Financial Services acquires right to develop energy plant from Calpine Corp., which also includes the purchase of a certificate held by Towantic Energy, a subsidiary of Calpine, to build the plant in Oxford.
September 2007: The town of Oxford receives $2.1 million from GE for the proposed Towantic power plant.
July 2008: Federal Aviation Administration determines five of seven proposed structures for the power plant would be a hazard for air navigation.
The FAA later reverses the ruling.
May 1, 2008: GE announces it will continue with development process of the proposed Towantic power plant.
Feb. 5, 2010: The town of Oxford passes an agreement to reduce GEEFS' tax payment to the town for January 2011 from $1.75 million to $500,000. Tax payments after 2011 depend on GE obtaining a power purchase agreement, which has not yet been obtained.
Nov. 10, 2010: Connecticut Siting Council grants extension to GE for construction of the proposed power plant.
Aug. 5, 2014: Competitive Power Ventures hosts a project update open house to inform the public about its CPV Towantic Energy centre project.
Sept. 18, 2015: The Siting Council approves development plans for the power plant, leaving just one more regulatory hurdle for CPV Towantic to clear with another state agency.
Nov. 30, 2015: State environmental officials conclude the power plant will not significantly harm air quality, despite concerns raised by area residents.
Feb. 11, 2016: Opponents defeat a payment-in-lieu-of-tax agreement for the project by 68 votes, rejecting a $112 million arrangement, 1,182 to 1,114. March 9, 2016: Connecticut Department of Energy and Environmental Protection Commissioner Robert J.
Klee denies the Middlebury's petition for a declaratory ruling on the agency's approval of air emission permits for the power plant.
March 15, 2016: Police and fire investigators are looking for someone who they say intentionally set fire to a trailer filled with hay bales at the CPV Towantic power plant construction site. Fire Chief Scott Pelletier said a 43-foot long trailer that contained 450 hay barrels was set ablaze.
Nov. 23, 2016: A major player in obtaining the approvals necessary to build Towantic power plant has been indicted on allegations that he bribed public officials in New York.
Jan. 10, 2017: Opponents of the energy plant in Oxford make arguments before the state Supreme Court asking for the court to overturn the Connecticut Siting Council's approval of the plant.
February 2017: Turbines and generators, each an average of 31 feet long, 14 feet tall and 13 feet wide, weighing between 250 and 300 tons are moved through Litchfield County to Oxford.
Based on weight alone, each piece equates to roughly 42 Asian elephants.
March 2017: Two heat recovery steam generators for the CPV Towantic Energy centre tower over the construction site on Woodruff Hill Road, amid a new administrative building, concrete platforms and construction trailers. The project is 43 percent complete.
May 1, 2017: Voters approved a $117.6 million tax stabilization agreement between CPV Towantic and the town.
July 12, 2017: A new community fund will pay for improvements to town parks and programs benefiting Oxford's children, seniors, and veterans.
Competitive Power Ventures agreed to annual payments of $50,000 as part of its $117.6 million tax deal with the town for its power plant under construction on Woodruff Hill Road.
June 19, 2017: The state Supreme Court upholds the Connecticut Siting Council's approval of the power plant in Oxford in a ruling published Monday. June 14, 2018: Competitive Power Ventures announces Towantic Energy Center is open and generating electricity.
Norwalk council to consider contract to rebuild James Street Bridge
By Robert Koch
NORWALK — Pending final approvals, a major overhaul of the James Street Bridge over the Silvermine River is poised to get under way by early next year.
On Tuesday evening, the Norwalk Common Council will be asked to approve a $1.82 million contract with NJR Construction, LLC to replace the bridge superstructure as part of a joint project between the Norwalk Department of Public Works and the Connecticut Department of Transportation.
NJR Construction of Torrington submitted the lowest bid among five firms seeking the contract, according to Vanessa Valadares, senior engineer in the Norwalk Department of Public Works. "Besides Common Council approval, we will be waiting on DOT authorization to award the contractor," wrote Valadares in an email explaining the anticipated project timeline. "Since this is a 80 percent State/Federal funded project, DOT must authorize the city to award the Contractor. All required documents have been submitted to DOT for review last week and it may take another 2-3 weeks to hear back from them."
Pending the approvals, Valadares said she's hoping to have the contract signed by the end of August. "I haven't met with the contractor yet, but I'm assuming that there will be utilities relocation during the fall and major bridge construction to start early next year," Valadares wrote.
The original schedule, which public works officials are still following, calls for a full closure of the bridge from February 2019 until late November 2019 to accommodate the bridge construction.
"Perry Avenue (Bridge) is complete so we will not have both bridges being built at the same time," wrote Valadares, referring to the recently completed overhaul of the Perry Avenue Bridge over the Norwalk River. "Motorists should follow detour signs that will be placed on the detour route."
The James Street Bridge over the Silvermine River was built in 1956. It has been listed as deficient by the Connecticut Department of Transportation and is due for replacement, Valadares said.
The upcoming rehabilitation will replace the bridge superstructure and widen its concrete deck from 30 feet 2 inches to 35 feet 6 inches to accommodate two 12-foot vehicle lanes with 2-foot shoulders, according to Valadares.
Bethel charter changes could affect major projects, budget vote
By Julia Perkins
BETHEL — Ever since the new police station building went almost $889,000 over its $13.5 million budget, town officials have said Bethel needs to prevent this from happening with other projects.
Now the selectmen hope to make this part of the town charter, among other potential changes.
The selectmen plan to ask the Charter Revision Commission to consider adding a rule that would require the town to obtain completed construction plans before voters approve a project costing more than $1 million.This would give the town a more accurate cost estimate than voters had for the police station and other town projects.Selectman Paul Szatkowski, who proposed this charter change, noted that many other town projects have hit similar obstacles to the police station, in part because work turned out to be more expensive than originally expected.
The library, for example, took 13 years to complete, as the town raised money and earned a state grant to finish the second floor.The town also had to sacrifice features of the high school, Berry Elementary School, Stony Hill Firehouse and municipal center projects to keep them within budget.
"It's time to put an end to that," Szatkowski said at a recent meeting.
This is just one change the Charter Revision Commission could examine as part of the required five year review of town rules.But First Selectman Matt Knickerbocker said the most controversial of the selectmen's proposals could concern the process for when budgets are rejected. The selectmen suggested permitting the Board of Finance to adjust both the town and school budgets, even if one side passed. This is the case in many other towns, such as New Milford and Brookfield.
Under the existing charter, the board cannot touch the school budget, for example, if it passes "If there is a real serious budget challenge, there can be a tremendous amount of damage to the smaller side of the budget, which contains vital town services," Knickerbocker said at the meeting.
He added the town budget also includes about $2 million for the schools, too, for debt load, insurance, utilities and pensions for non-teaching staff.
Szatkowski, however, was against the idea.
"The biggest thing I'm hearing from people is: 'You're overriding my vote and that's not the way I voted," he said.The town switched to adopting a bifurcated budget, meaning residents voted on the school and town budgets separately, in 2007. This was a popular change at the time, Knickerbocker said.
The selectmen also suggested eliminating the advisory questions on the ballot that ask residents whether they think the budget is too high or low. Over the last 19 years, voters have said the budget was too high, even when it passes, Knickerbocker said.
"I've never known anybody to knock on the door and say, 'I want to pay more taxes,'" Szatkowski said at the meeting.
Public comment at meetings is a more effective way of gauging opinions, and eliminating the questions would leave room on the ballot for other issues, Knickerbocker said.
The selectmen also want to prevent town employees from serving on the Board of Assessment Appeals. Town employees already cannot serve on Planning and Zoning, Inland Wetlands, the Board of Finance and the Zoning Board of Appeals.
The selectmen also proposed disallowing residents from simultaneously serving on multiple boards and commissions. This would prevent conflicts of interest and increase public participation, Knickerbocker said.
"We really would like to get more people involved and new people involved, so we have a more representative cross section of voters serving on boards and commissions," he said.The exception to this rule would be the Public Utilities Commission, which the charter states includes the selectmen and two other members. The selectmen have proposed adding four more appointed members to that commission to provide greater expertise.
The Charter Revision Commission will hold public hearings and seek feedback from stakeholders on potential changes before proposing its own recommendations to the selectmen. The process could take six months to two years, Knickerbocker said"You don't want to be monkeying with the charter just on a whim," he said. "You really want to do it with care and deliberation."
Centre Square access road nearly done
by
BRIAN M. JOHNSON
BRISTOL - The Centre Square access road is nearly complete, says City Engineer Ray Rogozinski, and construction crews are starting landscaping work.
"The road has been paved and has received its first coat of asphalt," Rogozinski said. "The trees that you see there now are just at a temporary location. They will later be dug out and planted along the roadway, like you see on Main Street and North Main Street. They will also be putting down the brick work between the curbing soon. This work should be completed in another month and a half."
The 1,000-foot Centre Square access road begins at the intersection of North Main and Laurel streets and cuts through Centre Square to Riverside Avenue.
Rogozinski said all utilities have been installed, but Eversource still has to connect the gas line to West Street and Laurel Street. The Laurel Street and North Main Street traffic signals will also be upgraded.
"They will have a new controller computer that is designed to register the additional movements we are expecting on those roads," he said. New metal poles will be installed to support this equipment, replacing the wooden ones that are there now."
As for the Bristol Hospital Ambulatory Care Center, blasting has been completed and rock removed to make room for the base of the building, now under construction.
The care center will house services for cardiology, endocrinology, diabetes, neurology, orthopedics, rheumatology and urology.
Chris Boyle, director of public relations for Bristol Hospital, said the project's deveoper has told him that construction is on schedule.
A beam-signing ceremony is planned for Tuesday, Aug. 27, at 10:30 a.m., as the steel skeleton of the building is completed.
Kurt Barwis, president and CEO of Bristol Hospital, is expected to speak during the ceremony. Mayor Ellen Zoppo-Sassu and local legislators will be invited to attend, along with local business leaders and hospital employees.
$1 million Portland sidewalk repair project eyes walkable downtown
By Jeff Mill
PORTLAND — The town has embarked upon its ongoing sidewalk repairs program.
Crews have already begun demolishing an existing sidewalk along a portion of the west side of East Main Street from Fairview Avenue to Freestone Avenue. The project, funded by money included in a $10 million bond package, is intended to approve sidewalks within half a mile of the town's four public school buildings. But more than just that — and more than removing broken pieces and up-thrusts that can cause "slip and falls" — First Selectwoman Susan S. Bransfield said she hopes the project will help create a walkable downtown.
Town officials held a formal groundbreaking ceremony last week, even though the contractor, T & S Caminito Concrete of Middletown, had already begun excavating to create a base for the new sidewalks. Workers also had to use a stump grinder to remove tree stumps that can undermine a sidewalk.
The project is expected to be completed in the early fall. In all, some two miles of sidewalks are being repaired under the $1 million project.
The other roads and/or streets included in the project are: both sides of Freestone from Main to East Main, the south side from East Main to Cross, the south side of Waverly from Main to East Main, the north side of Fairview from Main to East Main, both sides of East Main from Freestone to Town Hall, and Main Street from Fairview to Sprin In a 2016 memo outlining the scope of the project, Bransfield said it would include "removal and disposal of the existing sidewalk, placement of additional base material, replacement with a 5-inch thick new sidewalk and 8-inch thick sidewalk at all driveways, installation of [Americans with Disabilities Act] handicap ramps, removal of trees causing displacement and restoration of disturbed areas."
"I am very pleased to see this project has started," Bransfield said after the groundbreaking ceremony, then thanked "all those who are responsible" for the project going forward, beginning with "our townspeople."
She commended the sidewalk committee established by the Board of Selectmen. Members sorted through various options and arrived at the list of roads and streets where the sidewalks would be improved.
Bransfield also expressed appreciation to Board of Selectmen members "both present and past who worked to make this project a reality."
In particular, she noted former selectman Frederick Knous, a driving force in getting the project off the ground. Bransfield invited him to wield a shovel at the groundbreaking in recognition of his key role in moving the project forward.
She also commended the work of the town staff for their role "in improving our sidewalk infrastructure."
Person Injured After 30-Foot Fall at Groton Sewage Treatment Plant
VIDEO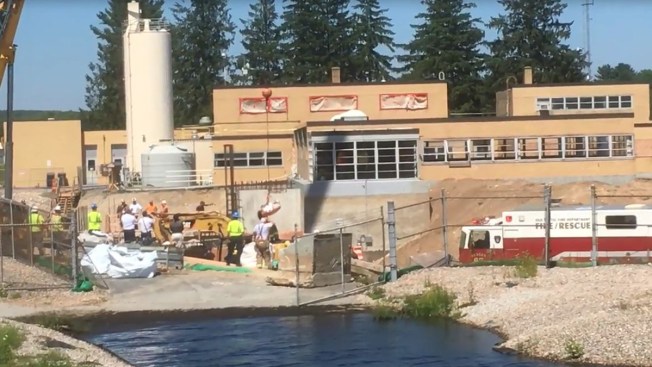 A person was seriously injured after a 30-foot fall at the Groton sewage treatment plant Monday.
Fire officials confirmed there is ongoing construction at the plant and that someone fell approximately 30 feet into the plant Monday. Firefighters used a Stokes basket to rescue the victim, who suffered significant injuries.
The victim was removed from the area by ambulance then airlifted by LifeStar to the hospital for treatment.
It was not clear if the victim was an employee of the plant or a contractor.
Joe Cooper
A Connecticut-based sports management company has announced plans to build and operate a $150-200 million multi-sport complex in Windsor Locks featuring two roughly 6,000-seat stadiums, turf fields, retail space and hotels.
JABS Sports Management LLC on Monday said it filed a general plan of development with the town's Planning and Zoning Commission to construct a sports complex across a 76-acre lot on Route 20 between Interstate I-91 and Old County Road, which is currently used as a tobacco farm. The complex would be known as All Sports Village (ASV).
JABS, which acquired an option to purchase the property, says the project will create 400 full-time jobs and 100 part-time jobs with at least 25 percent of those jobs going to Windsor Locks residents.
The developer anticipates an opening in summer 2020.
Under the plans, the developers have proposed to construct an indoor arena and outdoor stadium (between 5,000 to 7,000 seats), and 16 indoor basketball courts that can be converted into 32 volleyball courts. The sports venue would also house eight synthetic turf fields for soccer, lacrosse, flag football, softball and field hockey.
The plans also feature dormitories to house teams participating in ASV events, a 70,000-square-foot convention room, a fitness center, an entertainment center, sports related medical offices, restaurants, two hotels, a movie theater and retail venues.
The first facility of its kind in the U.S., the developers say the complex will host major tournaments for teams across the country in addition to local leagues and others on the East Coast. Windsor Locks High School athletic teams would be able to use the complex for home games at no charge.
Also, JABS will construct the first 1½ miles of a planned three-mile pedestrian and bicycle trail along the Route 20 corridor.
Windsor Locks First Selectman Christopher Kervick says financial details are still being discussed as the developer and the state are negotiating "tax and financing issues." If fully built, Kervick says, the proposed development is worth at least $200 million.
"This is a very exciting proposal that could bring a long list of benefits to the town, so I am hopeful that the financial aspects of the project can be worked out to the satisfaction of everyone," Kervick said.
JABS officials in a statement said the state-of-the-art complex would "draw athletes and their families from around the country to participate in our tournaments."
"The Windsor Locks location is ideal for this facility with easy access to Bradley International Airport, major highways and the numerous amenities in the surrounding area," JABS said. "The ASV project has strong support at the state level."
The developer says it's currently negotiating financial terms with the state Department of Economic Development and the state Department of Transportation.
According to the Journal Inquirer, the developer last year proposed nearly the same $100 million-plus multi-sport complex in Windsor.
New York developer Andrew Borgia, principal of JABS who has two sports complexes in the state, presented the near identical plans to Windsor's zoning commission in July 2017. The slightly smaller operation called to create just over 200 jobs in the Windsor community.
Following Monday's announcement, Windsor Town Planner Eric Barz said Borgia did not file an application for the sports complex in town, adding that the proposal changed several times before he went away quietly.
"It seemed like it was a moving target," Barz said.
Hartford Council Approves Sale Of Blighted North End Property, Tax Agreement For Hydroponics Company
Matthew Ormseth
Crop One Holdings, a San Jose, Calif., farming company seeking to upend the industry with hydroponics and space-efficient growing, was approved Monday to purchase a Homestead Avenue property for $250,000 that has stood blighted and vacant for years.
Hartford
's city council also voted in favor of a tax agreement that relieves Crop One Holdings of all real estate taxes accumulated by improving the property during its first five years. The agreement also waives a sizable percentage of Crop One Holdings' personal property taxes during the same period.
Crop One has promised the city that 25 percent of the 75 workers it plans to hire would be Hartford residents, with a goal of increasing that share to 40 percent.
At a public hearing before the vote, some residents questioned whether the figure was enough when the city was giving Crop One such a substantial tax break.
Shirley Surgeon, a North End resident who supports the development, said she'd prefer 75 percent of the workforce be Hartford residents, with most of them coming from the Promise Zone area the proposed site falls within.
"We have an abundance of people in that neighborhood who need entry-level jobs to get their foot in the door," Surgeon told the council. "I'm begging you, imploring you, to vote in the affirmative."
But others questioned the city's largesse, between the sale price of the land — $250,000 — and the generous tax agreement.
"You're giving a corporation an agreement where they don't pay taxes for five years, and you're giving them the land for pretty much nothing," said Rob Cotto, a city resident. "You have to ask, what is Hartford getting in return?"
Councilwoman Wildaliz Bermudez proposed rephrasing the resolution to guarantee that Crop One meets its avowed goal of employing 40 percent Hartford residents, saying the language was too vague to hold the company to meeting that target.
"Goals are important — but it's also been our goal to end homelessness, to end poverty, to have all our kids graduate from high school," she said. "At the end of the day, it's important to have it in writing."
Bermudez was overruled, however, and the resolution was voted on as written. "We can't afford for the deal to fall apart," council president Glendowlyn Thames said.
Bermudez, who abstained, was the only council member who did not vote in favor of selling the property to Crop One and giving it the tax agreement.
Under the agreement, Crop One would not be taxed on any improvements it makes to the property for its first five years in the city. Its real estate taxes — the taxes a property owner pays on the building's assessed value, parking lots and other facilities — would be phased in over the following five years in increments of 20 percent. In the sixth year, it would pay 20 percent of its tax burden, in its seventh year 40 percent, and so on.
The company's personal property taxes — levied on the equipment and fixtures within its buildings — would be reduced by 70 percent in its first two years, 50 percent in its third and fourth years, and 30 percent in its fifth year before phasing out in its sixth year.
John Philip, the city's assessor, said the agreement is modeled after the city's blight tax deferral program, which is intended to encourage new owners of blighted properties to repair their purchases without worrying about increasing their tax bill.
"It's almost impossible to get people to spend their own money in the North End without some kind of tax abatement," said Emily Wolfe, director of the Sheldon Oak housing company. "There's been virtually no investment in the neighborhood for decades."
Crop One has told the city it will spend $6 million to build the hydroponics facility and invest another $10.5 million in equipment.
Wolfe, whose company owns hundreds of housing units in the North End, said Crop One was making a rare overture of dozens of entry-level jobs in a neighborhood that has not seen the development enjoyed by downtown and other parts of the city.
Crop One said their starting wage would be $15 an hour with benefits, according to council members who spoke with company representatives.
The company, led by Chief Executive Officer Sonia Lo and backed by a heavy-hitting board of Silicon Valley investors, claims it can grow the same amount of produce raised on 19 acres of traditional farmland on just 320 square feet, using 0.04 percent the amount of water. The North End property, which encompasses 367, 393 and 424 Homestead Ave., covers 3.5 acres. The city began demolishing the dilapidated buildings on the property in May, funded by a $1.9 million state grant.
Steve Hawkins, a spokesman for the company, said it was drawn to Hartford for its "good labor pool," "strong state and local city government support," and "great transportation links to serve markets both in and outside" Connecticut. Hawkins did not respond to a request for a more detailed comment about the tax agreement and hiring guarantees.
John J. Thomas, a North End resident, said Crop One was offering an opening for people without college degrees to find work, and perhaps one day advance, in a modern, growing company.
"It'd provide a vertical ladder to rise up in a tech company,' he said. "It's economic investment in an area that just hasn't been invested in. Not many businesses want to come into north Hartford and invest."
Crop One announced last month it was building a $40 million farming facility in Dubai, billed as the largest "vertical farm" in the world. In a "vertical farm," crops are raised in a light- and temperature-controlled environment, using nutrient-infused water in place of soil. The planned 130,000-square-foot facility would produce three tons of leafy greens in the Emirati desert every day, the company said in a news release. The greens will be used by an Emirates airline catering company.
Also Monday, the council postponed voting to approve the appointment of Claudine Fox, who was nominated by the Working Families Party to fill the seat vacated by former councilwoman Cynthia Jennings.
Jennings was told in June she had effectively resigned from the council in January when she changed her party affiliation to canvass for a Democratic gubernatorial campaign. City clerk John Bazzano has since voided all of her votes since January 26, 2018, the day her party switch became official.
Jennings, who said at the time she'd been "wrongfully terminated and removed" and planned to contest her dismissal, declined to comment when reached by phone Monday.
Fox, 31, a political newcomer and a case manager at a health policy nonprofit, said she plans to bring to the council two priorities: requiring Hartford employers to give their workers adequate maternity leave, and supporting organizers, like the North End's Christian Activities Council, that help residents improve their quality of life.
Construction Employment Reaches 10-Year High
Construction employment increased by 13,000 jobs in June and by 282,000 jobs over the past year, reaching a 10-year high, according to an analysis of new government data by the
Associated General Contractors of America
. Association officials said many construction firms appear to be more willing to hire amid lower tax rates and a more favorable business environment, but caution that trade fights and labor shortages pose risks to future growth.
"The construction industry continues to add workers faster than the economy as a whole, and the industry is paying premium wages to attract and retain those workers," said Ken Simonson, the association's chief economist. "The employment gains are occurring in both residential and nonresidential construction. However, the industry is having to rely more and more on workers without construction experience, as the pool of unemployed construction workers has nearly evaporated."
Construction employment totaled 7,222,000 in June, the highest level since May 2008 and a gain of 4.1 percent over the past 12 months. The economist pointed out that the year-over-year growth rate in industry jobs was more than double the 1.6 percent rise in total nonfarm payroll employment.
Hourly earnings in the industry averaged $29.71 in June, an increase of 2.9 percent from a year earlier. That put average hourly earnings in construction 10.1 percent higher than the average for all nonfarm private-sector jobs, which rose 2.7 percent in the past year, to $26.98, Simonson added.
The unemployment for workers with construction experience in June was 4.7 percent, virtually unchanged from the levels in June 2017 (4.5 percent) and June 2016 (4.6 percent) — a sign that the industry is operating at essentially full employment, Simonson said.
Employment in residential construction — comprising residential building and specialty trade contractors — grew by 4,400 jobs in June and by 133,800 jobs over the past 12 months, a 5.0 percent increase. Employment in nonresidential construction — including building, specialty trades, and heavy and civil engineering construction — grew by 8,600 jobs in June and by 147,900 during the past year, a 3.5 percent increase.
Association officials observed that construction employers appear more eager to hire amid lower taxes and increased efforts to reduce needless or ineffective regulatory burdens. They added that recent increased infrastructure investments at the federal and state level also are helping boost construction employment. But they cautioned that workforce shortages, tariffs and a looming trade war could undermine future construction employment gains.
"The steps Congress and the Trump administration have taken to create a more positive business environment and boost employment appear to be working," Stephen E. Sandherr, the association's chief executive officer, said. "But new trade disputes and chronic underfunding of career and technical education programs pose a real threat to continued employment gains in the sector."
For more information, visit
www.agc.org
.